Premium VIP Yacht Charters is a yacht rental Dubai business serving the local and worldwide community gathered in Dubai. Our fleet of yachts consists of superyacht, mega yachts and private motor yacht rental for hourly basis in Dubai marina. we provide concierge services for an enjoyable holiday on board. We also arrange new years eve and formula 1 rentals in Dubai. We are based in Marina Dubai and we have been renting out yachts in Dubai marina for over 10 years. We offer small to superyacht rentals at competitive prices. Our yacht rental Dubai fleet consists of yachts with comfort, convenience, security and professionalism mixed into one. Our yachts will suit your needs whether you are a family or a group of friends looking to make great memories together on the water. Feel free connect with us!
Why Choose Premium VIP Yachts Dubai?
Optional Services
Hotel and Airport Shuttle
Various catering options from casual BBQ to fine dining
Multi day cruises to Abu Dhabi, Oman, Fujeirah or Qatar
Speedboat/ Fishing Boat assistance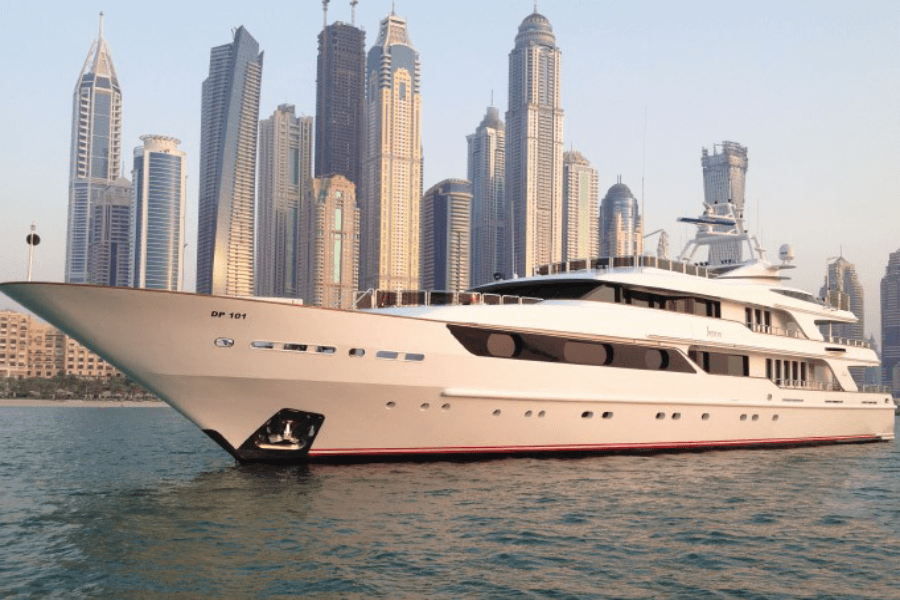 Yacht Rental Dubai Marina
Plenty of people we run into will tell us "it's a tough life on the open seas, spend all day working on a boat and seeing nothing but water." Yacht travel in Dubai is a very enjoyable experience, but is not for everyone. Although at some point you will likely wish you had never done it, but the feeling that you overcame such an incredible feat as to cross an ocean will be something that you will remember forever.
Dubai Marina is the natural blessing when comes to enjoying on Dubai water. You can get a sense of enjoyment and pleasure if you are able to spend your time with your friends and family here in Dubai. The people who want to spend their time in a different way should choose yacht hiring services. They will be able to spend their time in a good way. The yacht is a good place to hire when someone wants to spend their time in a different way. The yacht provides enough space to accommodate the number of people who want to spend their time in a different way. You will be having a good time on the yacht. The yacht services are being provided in Dubai. You will be able to have a good time if you book your yacht services from the Dubai Yachts.
Here at Premium VIP Yacht Charters, We provide yachts for rent in Dubai Marina. We have a variety of luxurious super yachts available and can help you choose the right one to enjoy the amazing views of the Marina. Rent the most fancy and comfortable yacht in Marina, Dubai. Have fun with your friends and family by cruising the sea and enjoying the beautiful views.
Staring from the yacht rental Dubai marina price of AED 2,000 hourly , we are here to break the most befitting deal with you.